Posted by Wilko in
Blu Ray
on Apr 18th, 2014 |
no responses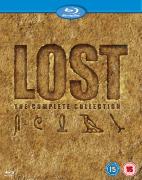 Let's be honest, most of Lost's audience drifted away sometime into the third season. Interesting though it was, the frustration of more questions and no answers simply got too much for most people. However, I am curious – how did it actually end? At £37.99 for the entire 6 season set of Lost on Blu Ray, maybe it's worth a re-watch?
Lost Complete Seasons 1-6 Blu Ray £37.99 at Zavvi
Any prices quoted were correct at the time of posting, and may not reflect the current best price.
Use our Price Comparison (at the top of the page) to get the current best price.
Got an opinion that you want to share? Vent your spleen in our FORUM!