Posted by Wilko in
Blu Ray
on Apr 6th, 2014 |
no responses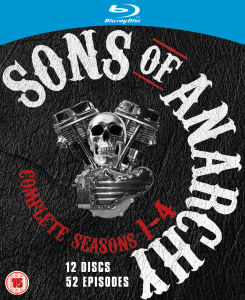 Sons of Anarchy is an adrenalised drama with darkly comedic undertones about a notorious outlaw motorcycle club intent on protecting their sheltered small town against encroaching drug dealers, corporate developers and overzealous law officers. The club is equally determined to protect their ruthless and illegally thriving arms business. Charlie Hunnam stars as Jackson 'Jax' Teller, a man whose love for the brotherhood is tested by his growing apprehension for its lawlessness. Katey Sagal stars as Gemma Teller Morrow, Jax's force-of-nature mother, who along with Ron Perlman as Clarence 'Clay' Morrow, Jax's stepfather and MC President, have their own darker vision for the club.
Available for just £28.99 in Zavvi's Mega Monday deals
Any prices quoted were correct at the time of posting, and may not reflect the current best price.
Use our Price Comparison (at the top of the page) to get the current best price.
Got an opinion that you want to share? Vent your spleen in our FORUM!